The failure
To address the issue of reconnecting with the women, it is essential to understand what we have away.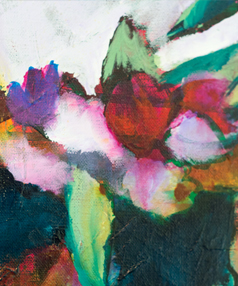 The point that we all share, is a failing education tearing us apart with the woman. Learn how to calculate, solve problems, put strategies in implementing cutting off ALL of our feelings, denying our emotions "but no it does not hurt", "do not cry you're great!" (Of course, the ying is not the only energy be cut What is seen less is tearing the yang for men, because the expression of the sacred masculine is not free! " do not short "," sit "," be calm "…)
Certainly history has played a huge role (with the patriarchal heritage and Christianity) yet it is in the personal facts that one must focus.
The failure occurs by our parents (who also, have been severely cut!)
Take as a starting point, image, oh so familiar of the wife and perfect mother of the 50 (tidy house, well-dressed children). The feminine energy of that era appears often emptied, shut out the world. Only the possibilities of realization belong to the male world. This typical couple saw the birth a daughter. Several educational scenario will arise:
mother insist make her daughter a good wife, like her. The girl learns to sacrifice, not to consider her feelings, to deny her visions, achievements.
or, the mother will make sure her daughter does not suffer the same fate as her. "Be independent," "get an education." The girl gradually include massage: it does not worth to be a woman in this world, do not be one!
On the side of the father, it will very likely to denigrate her daughter, pay no attention to it because of her sex. The girl trying to please his father will do just as well as men, to see better! Perfectionist to the fingertips, disparaging his feelings and all her feminine attributes, which it accuses of being the cause of the refusal to love his father.
Or his father will take under wing, teaching him all the tricks of the trade. She will be very successful but will cut these energies.
We are girls, or girls of the girls who had finally gained access to the world.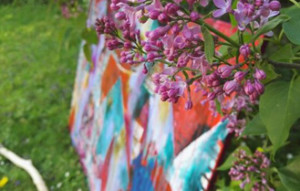 Yet the world has not changed … in turn, our mothers ask us to be independent, or to deny us to do more and better, to have success. We have learned to play with the field of intellect, language, key to success (even if few of us managed to break through the glass ceiling of private company CEOs = stations) while having a family and a sparkling interior. We cumulate both the place of man and woman, to try to give us a place in the world, or in a home (without giving a real place our men now).
In short, even today, we understand that it would be easier for us to be born boy to be happy …
… and we cut ourselves from our feminity.
What will be our future?
Reached the peak of success, after large studies … we are likely not to feel for us. To see a great void. To experience a period of depression.
Many "will use drugs" to hold on. Most of the time, they will shake the teeth, ready to sacrifice … or find a lover to feel alive again.
This can simply start! We discover a new passion for gardening, walking in the woods or in the dunes, we enjoy the silence, we resume writing a novel begun in adolescence …
Or it occurs in a huge crash! We leave our job, we decide to have children (while we are director and did not in all the time), or on the contrary, we abandon our family.
Our friends do not understand us. Ourselves, we see ourselves as a complete stranger!
Suddenly we no longer endure the male world, language games, intellectual games, the managerial strategies.
It seems we are drowning in a sort of depression … so we simply swim in the deep waters of the Goddess. Persephone (Goddess of the other world) called us, she showed us what needed to be destroyed, that the sacrifice had no place in our lives.
The time of reclaiming our power is coming.
Education has introduced judgments and weakened the union. It is time to discard old beliefs …
But we find ourselves without a map!
The descent into the depths of the goddess taught us to do what we like, thoroughly. Maybe even to concern ourselves with the moon phases.
Yet we do not always find reconnect …
I believe that there are different way to get on track. For me it was thanks to the intuitive painting! And that is why I intend to steer you in this incredibly rich and surprising area.
The intuitive paint permits to connect with our feminine part BUT ALSO to unite sacred masculine AND feminine.
This technique is a bit like a dance eventually. A quick dance, because in practice this influx without discontinuity between intuitive capture and creation happens in a split second:
I feel the need to add at this point blue (ying) and I make the decision to do so. I choose the paintings, I mix them and then I catch THIS brush not this one, I apply HERE on the canvas, I correct if necessary (yang).
These gestures are made a hundred times by hour of painting.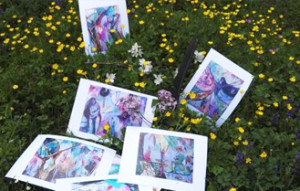 I have expressed an hundred ideas (from intuition) per hour of paint. So I strengthened my ability to capture, like a muscle that causes it.
And this is naturally reflected in our daily lives, because little by little we know, again hear the whispers of our deep inside.
We open the doors of a light existence, sparkling, abundant.
We live in harmony with our biological rhythms, with our dreams.
The wild woman* is back!.
The sacred feminine appears everywhere in our lives: in our art, our poems. We know when the re-connection is on track.
In the end, this is not from outside that women will find the answer.
But inside, by reviving emotions, feelings. Diving in itself, digging in search of the Golden Nugget whatsoever, the turning of a brushstroke, a rhyme, a pirouette, a song, a meditation. Gradually, the archetypal wild woman wakes up. First she stretches slowly, she opened one eye, then the other … finally standing and powerful, she smiled.
And life, then, stems from it.
She lives according to her intuition a bubbly life, strong, loving and continues to have at the end of the day all her creative potential.
She is well in her body, full of vitality.
She has bright eyes, she moves forward, she can make the right choices.
She creates with her her guts, she's an artist.
She's the witch, sh's the goddess.
She's the mother who give life.
She's the passionate lover.
She's the one seeking true.
*From Clara Pinkola Estès