The intuitive painting not only allows us to reconnect with our femininity, but also allows the union between masculine AND sacred feminine! 
I feel the need to add to this place blue (ying)
I choose the paintings, I mix them then I catch CE brush not that there, I apply HERE on the canvas, I rectify if need (yang).
If one is accustomed to action, to materialization, that is to say to the masculine part of the process, intuition is a concept that escapes us more.
But : what is intuition ?
Is it a small voice emerging from our unconscious?
Is it a muse, as the Greeks liked to represent it?
Are they minds charged with communication, as we find in the writings of Machaelle S. Wright:
If you, humans, are only interested in receiving inactive information, you limit the registry to the means we can use to give you information. We (the spirits of nature) are, in this case, reduced to interact with you on the mental level. If you physically move according to the information received, we can extend our interaction through your physical movements. We can change your movement through intuition and we can do it in the moment. When you act, we can make you shift nuances through intuition, impossible to communicate at the mental level. This results in a wider capacity of what you want to know. In summary, our communication is greater by active information than by static information. "
The Perelandra Garden
???????????????????????????
There are many beliefs. The mystery … whole!
??????????????????????
The result, however, is there … our hand is guided by intuition.
And these gestures are done hundreds of times per hour of painting!
For every hou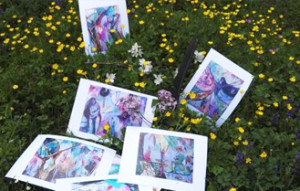 r of painting, I am able to express a hundred ideas from my unconscious (or the muses, the spirits, the ALL, etc …)
One hundred !
So I strengthen my ability to capture.
I train my "intuitive muscle".
Fortified, this new muscle intervenes daily.
Because, this creative process is a metaphor for the whole life!
Little by little, I learn to hear the murmurs of my deep inner in all areas of my life (races to the most important decisions.)
Life opens its doors to a light, sparkling, abundant life.
I live in accordance with my biological rhythms.
With my dreams.